yamada-casting,YAMADA,cast,ironworker,metal mold casting,aluminum,trial production,Aluminum casting,Cooking rice pot,Pure aluminum,Insert casting,Production of aluminum alloy casting parts,Processing of aluminum alloy casting parts,japan,kagawa,marugame


A Wealth of Experience, Reliable Products, Meeting the Challenge of Production
We use a gravity die casting process whereby a cast iron or heat-resistant alloy metal mold is attached to the casting machine and the molten aluminum alloy is poured into the mold by force of gravity.
Compared with sand casting, the cooling rate of the casting process is much faster, which enables the production of fine castings with good casting surface and high dimensional accuracy.
We have been developing our own casting machines since 1983, and use a total of 10 different machines to manufacture products that meet the demands of our customers.
Large vertical casting machine (600 x 1200) 1 unit
Medium tilting casting machine (530 x 590) 1 unit
Small tilting casting machine (280 x 400) 1 unit
Small vertical casting machine (390 x 400) 2 unit
Medium tilting gravity metal casting machine (600 x 1000) 1 unit
Small tilting gravity metal casting machine (370 x 600) 1 unit
Round shape casting machine (φ 700 x 400) 3 unit
※Numbers in parentheses indicate the dimensions of the metal mold (mm).
Casting machines can be used to produce a wide range of products
from small castings (minimum 10 g) to large castings (maximum 10 kg).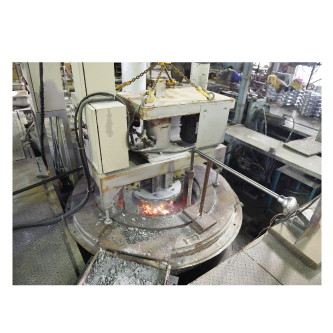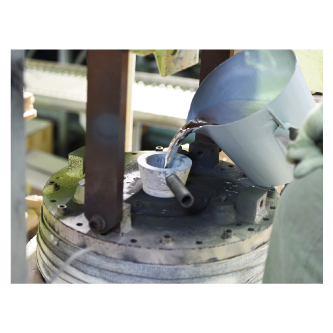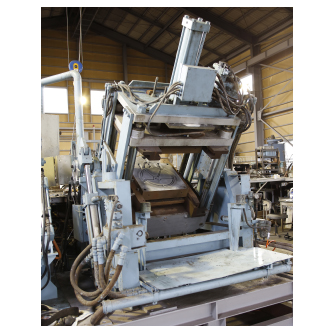 Insert casting is a technique in which different materials such as stainless steel
are inserted into an aluminum alloy casting.
The overall cost and weight of the product can be reduced by carrying out complex forming on the aluminum alloy
and using stainless steel only where it is required for strength and wear resistance.
We specialize in insert casting as well as regular aluminum alloy casting.
Please refer to the product examples below to see how insert casting can improve product quality and reduce costs.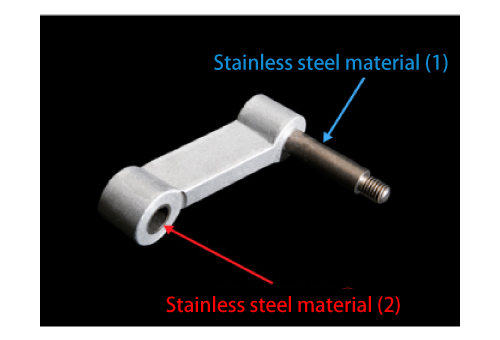 In the past, stainless steel bolts (stainless steel material 1) were tapped onto aluminum alloy castings that
were roughly the same shape as that of the photo above.
However, the sliding parts (stainless steel material 2) gradually wore out and rattling would occur.
Thus, the stainless steel material (1) and (2) were combined through insert casting to improve
the wear resistance without changing the overall shape.
In addition, this reduced the number of tapping and bolting operations, allowing for a significant reduction in cost.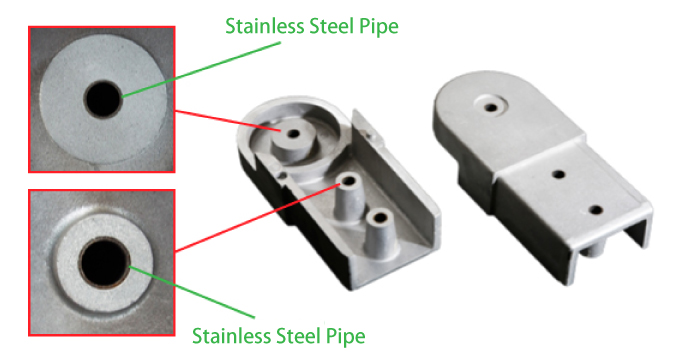 For products of this shape, the process of drilling holes is usually carried out
after the aluminum alloy casting is completed.
Because this product contains two separate parts that fit together, the accuracy of the holes' dimensions
and the strength of the fasteners is crucial.
By combining the stainless steel pipes into a single piece using insert casting, we were able
to improve the accuracy of the hole positions and the strength of the fasteners, while reducing overall costs.
In general aluminum casting alloys (AC4C, etc.), alloying elements (Si, Mg, Cu, etc.) are added
in order to achieve both castability and strength.
On the other hand, pure aluminum (97% or more Al) has excellent corrosion resistance, ductility,
and anodizing properties due to the fact that they have fewer added elements compared to general alloys.
However, it has the disadvantage of inferior castability and strength compared to general alloys.
The table below compares general aluminum casting alloys with pure aluminum.

Since 2016, we have been working on casting using pure aluminum,
which has significantly different characteristics from general casting alloys.
We also have experience manufacturing gas rice cookers made of pure aluminum for commercial use.
Pure aluminum casting products are more ductile and expandable than products made of general casting alloys,
and can be pressed after casting.
Casting and pressing enable free modeling that differs from conventional processes.

copyright© yamada-casting.jp All Rights Reserved